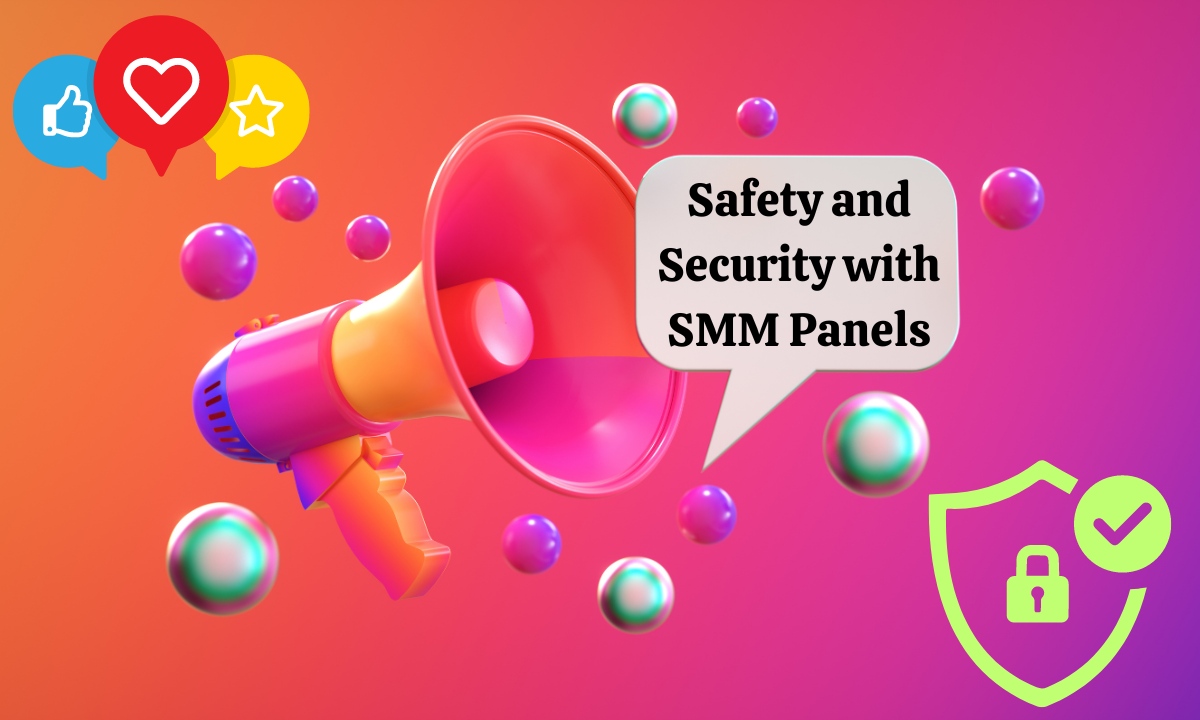 Safety and Security with SMM Panels: What You Need to Know
The SMM panel is a term used to describe social media marketing, which allows thousands of company owners to advertise their brands on a variety of channels. People may easily access everything with the use of such panel services. Also, using such services to advertise a business is simple and straightforward. People can also use it to save time and money.
Understanding SMM Panels
A variety of social media services, such as likes, follows, comments, shares, and views, are offered by SMM panels, which are online platforms. These panels' main objective is to help users and organizations improve their visibility on well-known social media websites like Facebook, Instagram, Twitter, YouTube, and others. SMM panels serve as brokers, putting users in touch with the engagement or analytics they want for their social media profiles.
A wide range of services catering to the various demands of social media marketers are offered by SMM panels.
These panels frequently provide the following services:
1. Likes
2. Followers
3. Comments
4. Shares
5. Views
Due to their capacity to boost marketing tactics and expedite the expansion of social media, SMM panels have grown in popularity. They give you a quick and easy approach to boost your social proof, draw in natural interaction, and build a solid online presence.
Safeguarding your brand in the world of SMM Panels
Social media has developed into a crucial platform for people and companies to create their online presence in the current digital world. The opportunity to increase exposure and interaction on various channels is alluringly presented by Social Media Marketing (SMM) panels. A brand's reputation and online accounts might be placed in jeopardy if you don't proceed with prudence in the SMM panel world.
Recognizing the Hazards
Sharing social network login information is frequently required while using SMM panels, which raises the risk of security breaches if the panel provider manages your information improperly. Although buying likes, followers, and comments may be alluring, doing so may be against the terms of service of the site, which might result in fines, account suspensions, or even permanent bans.
Some SMM panels use dishonest methods, including using bots or false accounts, which violate platform regulations and endanger your reputation if discovered. Strong security precautions are required since enhancing your online presence using SMM panels might make your accounts tempting targets for phishing scams, hacking attempts, or other illegal activity.
Taking Steps to Reduce Risks and Ensure Safety
Investigate panel suppliers in-depth, making sure to confirm their standing, dependability, and dedication to data security and privacy. Focus on developing real engagement and growing a devoted and genuine following rather than depending exclusively on paid stats.
Put strong security measures in place, such as two-factor authentication, strong passwords, and routine monitoring for any unusual behavior across all of your social media accounts. To guarantee compliance and prevent legal repercussions, familiarize yourself with the laws and rules that apply to social media marketing in your area.
SMM panels provide tempting opportunities for increasing your online visibility, but security and safety must come first. Consider the risks carefully and take proactive steps to reduce them if you want to protect your brand and accounts.
Let's See the: SMM Panel provider in Bangladesh

Safety and security with SMM Panels
While using SMM panels for marketing might be beneficial, it's crucial to be aware of any potential safety and security risks. You should be aware of the following important details:
●

Credibility and Dependability
SMM panels vary greatly from one another. There are many different panels available, and they might all have different reputations and levels of dependability. It's essential to conduct careful study and pick a credible SMM panel supplier with a history of providing high-quality services and upholding data privacy.
●

Account safety
It's possible that using SMM panels may need you to provide the panel provider access to your social media accounts. This can be a security issue because if the provider handles your information improperly, your account could be hacked. Make sure the SMM panel you select has a robust privacy policy and takes the necessary precautions to secure user data.
●

Quality of services
SMM panels frequently provide services like purchasing likes, followers, or comments. Despite the fact that these services might improve your online visibility, it's important to realize that inflating your social media metrics in violation of the terms of service of the relevant platforms may subject you to fines, account suspensions, or even permanent bans. Instead of depending entirely on paid measures, it is advised to concentrate on fostering genuine involvement and organic development.
●

Unauthorized Acts
Some SMM panels use dishonest tactics to provide their services, such deploying bots or phony accounts. In addition to breaking the terms of service of social networking sites, these actions might damage your reputation if they are discovered. Before employing an SMM panel's services, always make sure they are real and legitimate.
●

Specified Attacks
Your social network accounts might be subject to targeted assaults from SMM panels, such as phishing attempts or hacking. Attackers could target your accounts by taking use of flaws in the panel's software or by making use of your enhanced exposure. Put robust security measures in place, such as two-factor authentication, strong passwords that are unique, and routine account monitoring for any questionable behavior.
●

Legal considerations
The usage of SMM panels may be prohibited by the terms of service of social media networks or even illegal in some places. To guarantee compliance and prevent legal repercussions, familiarize yourself with the appropriate rules and regulations regulating social media marketing in your area.
SMM panels may be helpful tools for improving your online presence, but it's important to be aware of the possible safety and security hazards they bring. You can successfully traverse the world of SMM panels while preserving the reputation of your business and securing your online accounts by being aware of these hazards and putting recommended practices into effect.
To guarantee a secure and productive experience using SMM panels for social media marketing, prioritize research, pick reliable suppliers, pay attention to organic development, and maintain strict security measures.
You can Alos Read: Definition of SMM Panel